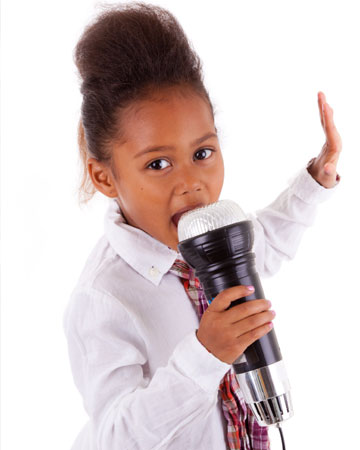 I've seen children on reality talent shows and think it's wrong. Children, especially young children, should be encouraged, motivated and praised. They should not be subject to judgments on the merits of their talents. They definitely shouldn't have to compete with adults. The desire to win the coveted crown and or prizes may derail a small child's self esteem and create issues with their self image and abilities. There are a few main reasons why I'm against children participating in talent shows:
Expert Opinion
According to psychologists and other experts reality shows for children are not a healthy concept. These children are under a lot of stress. The harsh comments of the judges at times can be difficult for them to handle. Adults, for the most part, are mature and can handle criticism and failure well, but children have still not reached that level of maturity.
They may take criticism or rude remarks very seriously. They may feel humiliated if they are given a negative comment on their performance on national television. In fact, adults themselves find it tough to handle the pressure of reality shows, so one can imagine how difficult it is for children.
The fear of rejection makes them put more pressure on themselves.
According to experts, children who participate in reality shows achieve sudden fame. Everybody knows them and suddenly they are in the limelight. When they are not in the limelight anymore and the fame suddenly fades away, they find it difficult to cope. Not every child is able to take it and it can result in deep frustration or depression.
Pressure by Parents
Many parents push their children to perform better. Sometimes the reason for pressurizing their kids to participate in the reality shows is the allurement of the big amount of prize money. There are many children who are either not talented enough to win, nor care about performing, but parents still push them to participate in rivalry and competition instead of just allowing them to have fun.
Parents should remember that their children's lives are their own. It's fine to appreciate your child's progress in dance class or to watch a child's face light up when he/she performs in a recital. But that talent alone doesn't define who a child is as a person. He/she should not be subjected to being judged on one aspect of him/her as a person. Compassion, kindness, helping others should be praised and encouraged as well.
Effects of Reality Shows on Children
There is endless amount of practice required in reality shows. The long hours of practice and rehearsals can become very physically and mentally tiring. Often, children's school work and friendships suffer due to dedicating time to learning and perfecting show routines.
As mentioned earlier, The pressure on someone to go out and perform and be judged, often very critically judged, is enough to make adults turn into bundles of stress. Parents do not seem to understand what they are teaching their children by encouraging participation in these kind of events. It is damaging to their self-esteem and gives them an unrealistic vision of what is important in life.
Another negative influence of these shows is the imitation of adult dance moves and emotions like (flirting, sensuous or raunchy moves) on grooving Bollywood songs by kids making them lose their innocence. It's the innocence and childish behavior that attracts people the most towards them. But projecting such emotions encourages them to enter the adult world sooner, a world in which they're emotionally not equipped to handle.
How can parents help children?
They can look at their own behavior and reasons for wanting their children to participate. And remember that you serve as a role model. If you place value on doing the best that you can, not giving up on something you care about because it's important to YOU, not anyone else, doing what you truly enjoy, so will they. All children should be given the freedom to be just children. Pushing them to do what you think they're capable of won't work. Be patient and supportive in your efforts to polish their skills, but give them plenty of time to play and experience the simple things in life that children find so interesting and fulfilling. Let children discover their own talents and goals and develop them at their own pace. They and you will be the better for it.