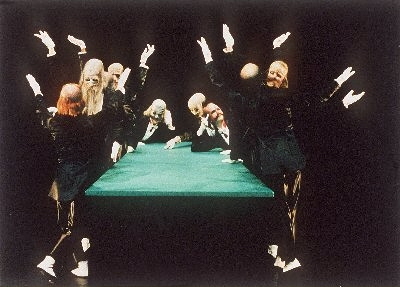 At right - Politicians making war in Kurt Joos's GREEN TABLE created in Germany between World Wars 1&2, staged by the Joffrey Ballet
Balletomania - extraordinary enthusiasm for ballet - resurges from time to time. During the 1960's and 1970's a convergence of creativity, talent, vision, politics and money created what is known as the dance boom. is remembered by many as the dance boom.
Ballet, usually relegated to the back of the arts section, as front page news. The newspapers were full of ballet, which is normally kept for the back of the arts section. Ballet dancing even made the front pages. Many outstanding ballet dancers defected from the Soviet Union and seized the world's attention. The most prominent defectors included Rudolf Nureyev, Natalia Makarova and Mikhail Baryshnikov. These ballet dancers sparked a renaissance in classical ballet and nonclassical items were reinvented. Suddenly new first rate ballets started appearing and ballet was the hip thing to do.
And there was money for it. During the 60's and 70's the federal government established the National endowment for the Arts, individual states created their own arts councils and private organisations like the Ford Foundation gave generously to dance and dance education.
Today, a Russian dancer can move to New York without too much difficulty, but before the fall of communism, it was unthinkable. Russia did not allow people, especially prized ballet dancers, to emigrate. When Russian dancers had tours to Western countries, they were under constant surveillance and were not permitted to go on tour at all if the government harboured suspicions about them. Ballet dancers lived in fear for their families that were left behind in case the government retaliated against them. If they did defect, they had to assume that they would never see their loved ones or their homeland again. Artistic freedom came at an enormous price and huge risk.
Nureyev dominated the stage with his magnetism and put male dancing in the spotlight again. Makarova brought with her exquisite line and expressive phrasing along with brilliant technique. Baryshnikov will be remembered for his astounding leaps and turns that just seemed to come out of nowhere.
Nineteenth century ballets got a much needed boost, and new classics were in full production. In Europe, Cranko, MacMillan and Ashton choreographed important and enduring ballets. In New York, Arthur Mitchell founded the Dance Ttheatre of Harlem. At New York City Ballet, allanchine and Robbins created some of their finest work. With NYCB's move to Lincoln Center in 1964, the advent of dance on television, creativity seemed boundless and endless. The 1972 Stravinsky Festival offered 22 premieres on one week, 10 by Ballanchine.
Robert Joffrey demonstrated how ballet could rouse an audience to political protest. The Joffrey Ballet revived important but rarely seen ballets from the distant and not-so-distant past. It also presented new work by then unknown choreographers like Tharp, Forsythe and Morris. In 1967 Joffrey revived Kurt Jones's 1932 harrowing antiwar ballet,
The Green Table
Two years later, when the Vietnam War as at its height, Joffrey put
The Green Table
on the program. During the performance, each dancer wore a black armband when his or her character was taken by Death; their final group appearance at the end creating an eloquent silent protest. Audience members were moved to follow the dancers out onto the streets of New York to join the demonstration.
Today, original voices have emerged,usually borrowing from fresh idioms. Chinese opera training may be at the root of Shen Wei's vocabulary, but this Chinese-born choreographer's abstract treatments of Stravinsky and other Western composers are startlingly innovative. Ronald K. Brown has adapted the fluency of African dances with remarkable creativity for Alvin Ailey's company and his own. The freshest novelty is break dancing, as restylized and theatricalized. It is a limited idiom, but you would not know it from the works of Rennie Harris and the French company Kafig.
All that said, everyone knows that the dance boom has ended. It fell victim to drastic cuts in government and private financing that curtailed touring and put some companies out of business. The creative drive of that exciting time has also petered out. Douglas Dunne no longer lies on a crate for hours. Ms. Tharp no longer investigates the limits of perception, daring audiences to follow her dancers from room to room or up and down staircases in museums.
Old-timers will tell you, rightly, that dancers value technique over artistry today. But this is not true in all cases, especially in the way Balanchine works are danced 23 weeks a year at New York City Ballet, the only company in the world that can attract a public for that long in one city. Professional Balanchine mourners: move on. Doomsayers of the dance world: stand by; any art form is greater than a single individual, be it choreographer or superstar. We are in an interlude waiting for the next boom. In the end is the beginning.
Interview/Documentary from Dance in America with the Joffrey Ballet in 1976. Includes Robert Joffrey briefly interviewing Kurt Jooss about "The Green Table"