At Right - Long, romantic style tutu which Marie Taglioni would have worn in La Sylphide or Giselle.
The credit - or blame - for inventing pointe work goes to Marie Taglioni. She wasn't the first, but she was the pioneer who transformed toe dancing from mere trick to genuine artistry.
Marie Taglioni was born on April 23, 1804, in Stockholm, Sweden. Her father was famed Italian choreographer Filippo Taglioni and her mother was dancer Sophie Karsten. Taglioni made her debut in La Réception d'une jeune nymphe à la cour de Terpsichore in June 1822 at the Hof Theater in Vienna. She made her Paris debut in 1827 and was the star of the Paris Opera for the next ten years. She also danced at Her Majesty's Theatre in London. Among her many fans was a young Princess Victoria.
La Sylphide and Fame
Filippo trained Marie as a student and reportedly put her through six hours of practice a day. In 1832, Filippo created the ballet La Sylphide for his daughter. La Sylphide tells the story of James, a young Scotsman, who is lured away from his love by a forest fairy. It was the first ballet that showcased dancing en pointe as graceful, not as an acrobatic stunt. The first toe shoes had no reinforcements so standing on pointe was incredibly difficult. Taglioni's style was characterized by floating leaps and balance poses such as the arabesque. Taglioni's role as the forest fairy catapulted her to fame. She became one of the most celebrated dancers of the Romantic Era.
At Right - Pointe Shoes via 1860
Although exciting to watch pointe virtuosity was limited. A dancer was not "over feet" as are today's dancers - her flimsy shoes did not permit it.The first pointe shoes used by ballerinas of the early nineteenth century were little more than soft ballet slippers which were heavily darned at the tip. Dancers posed for barely a second on pointe. Today's pointe technique, which consists of relevés, pirouettes, hops and sustained poses, was not possible until the advent of the modern pointe shoe. Modern pointe shoes are made of several layers of burlap and canvas, each formed and then dipped in glue. It is this hardened glue which give the shoe its stiffness. The final layer is satin.
The shoe is then held together by three soles, called shanks. The outside and middle shanks are made of leather, the inside of cardboard. The shanks, with the edges of the satin and canvas in between, are glued and then nailed together.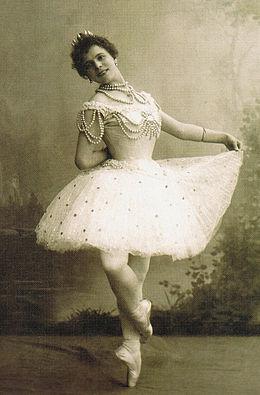 At Right - Pierina Legnani
Sturdier shoes allowed pointe dancing to reach the next level. The dancer who led the way was Pierina Legnani(1863-1923). Trained by Carlo Blasis at a Scala, Legnani made a sensational debut in Cinderella in 1893, performing an unheard of 32 fouettes on pointe. Soon intricate multiple turns, hops, and sustained balances on pointe were in every ballerina's vocabulary. Swan Lake had been a flop in 1877. With Petipa's choreography and Legnani in the lead, it was a smash in 1895.
In 1832, Taglioni married Comte Gilbert de Voisins in London. The couple had a son and daughter, but separated three years later. In 1837, Taglioni signed a three-year contract with the Imperial Ballet (known as the Kirov/Mariinsky Ballet today) in St. Petersburg. Her last performance was in Russia was in 1842, after which a pair of her toe shoes were sold for 200 ruples. Legend has it, these shoes were cooked and eaten by a group of ballet fans.
Taglioni retired from dancing in 1847, but returned to dancing within a few years. According to rumors, she was forced to return to work because of bankruptcy. In 1854, she performed the Pas de Quatre with three of the Romantic Era ballerinas: Carlotta Grisi, Lucille Grahn, and Fanny Cerrito. From 1859-1870, she was the Inspectrice de la Danse at the Paris Opera and instituted a system of examinations. Taglioni choreographed her only ballet, Le Papillon, in 1860. The ballet was created for Taglioni's student, Emma Livry, who is best known for dying in 1863 when her costume caught fire from a gas lamp that was used for stage lighting. Marie Taglioni died on April 22, 1884 in Marseilles, where she had been living with her son.
The work that Marie Taglioni began allowed dancers to make their characters more vivid. Odile turns those 32 fouettes because she is a wicked temptress hypnotizing Siegfried. Aurora sustains those balances in The Sleeping Beauty because she is a poised, regal princess. To this day, pointework adds to a dancer's drama as well as technique.
Royal Ballet video of How Marie Taglioni would have trained and her role in the creation of La Sylphide
Video of How Pointe Shoes Are Made
New York City Ballet "Pointe Shoes"
from
Galen Summer
on
Vimeo
.